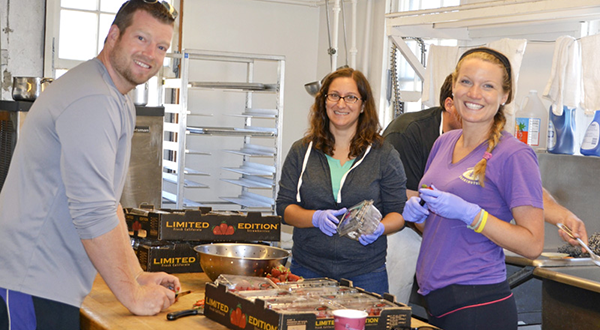 Camp Casey Adult Volunteers and Nurse Volunteers
Due to COVID-19 Kiwanis Camp Casey 2021 will be moving to a day camp model for one year. Camp will take place at Magnuson Park in Seattle, from July 26th to 30th. Links to the adult volunteer application can be found below!
Volunteers are crucial to camp running smoothly. While counselors ages 16 through college age provide all direct camper care, we rely on our volunteers' ages 18+ to setup and cleanup, help out in the mess hall, keep campers and counselors safe, assist with laundry, arts-and-crafts, and night-watch. We are looking for much-needed volunteers interested in helping provide campers the best week of their life!
Please complete the appropriate volunteer application online. We complete a Washington State Patrol background check on all volunteers before attending camp. Results will not be released to you unless they are unsatisfactory.
Adult Volunteers
Adult volunteer applications are closed for 2021. Please check back next February for the application to attend Camp Casey 2022.
NOTE: You must be 18 to volunteer at this year's camp.
Have more questions or have a Kiwanis group interested in volunteering? Please contact: volunteer@campcasey.org
We are always in need of volunteers who would like to join NC Kiwanis and coordinate our primary service project Kiwanis Camp Casey. Because of COVID-19 we are running our meetings virtually via ZOOM. If you would like to learn more ways you can participate or help with Kiwanis Camp Casey email director@campcasey.org or check out our webpage at http://northcentralseattlekiwanis.org/
Nurse Volunteers
At camp, Nurse Volunteers provide nursing care for children ages 6-18 with physical disabilities including first-aid to campers and staff, staffing the nurse's station, administering medications and treatments, participating in fun camp activities and having the best week ever. We are looking for interested Registered Nurses, Nursing Students, Licensed Practical Nurses, Nurse Practitioners, or Physicians. Please complete the online application and the release form.
Our nurses are the heart of Kiwanis Camp Casey!
The online application for nurses can be found HERE!!!
CASEY FOREVER!
Nurses who have previously volunteered for Kiwanis Camp Casey are reminded that North Central Kiwanis offers scholarship money for continuing education to maintain nurse licensure. Please send a request to director@campcasey.org.
Have additional questions regarding volunteering as a Nurse? Please contact headnurse@campcasey.org
Planning and Leadership
Are you interested in planning, fundraising, or helping with the website? We are looking for people who would be interested in helping through-out the year. If you are interested, please email: director@campcasey.org