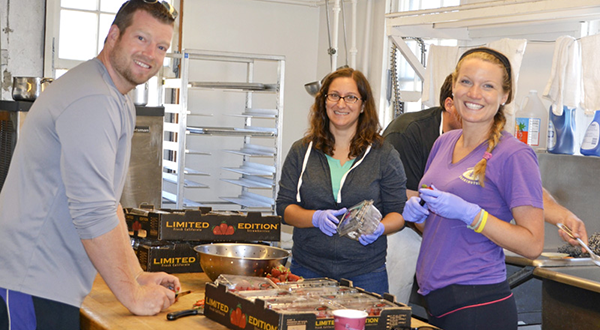 Camp Casey Adult Volunteers
Volunteers are crucial to camp running smoothly. While counselors ages 16 through college age provide all direct camper care, we rely on our volunteers' ages 18+ to setup and cleanup, help out in the mess hall, keep campers and counselors safe, assist with laundry, arts-and-crafts, and night-watch. We are looking for much-needed volunteers interested in helping provide campers the best week of their life!
Kiwanis Camp Casey 2023 will take place from July 30th to August 5th at Lions Camp Horizon in Blaine, WA.
Please complete the appropriate volunteer application online. We complete a Washington State Patrol background check on all volunteers before attending camp. Results will not be released to you unless they are unsatisfactory.
Adult Volunteers
We are now accepting applications for volunteers at camp Casey! CLICK HERE TO APPLY!
NOTE: You must be 18 to volunteer at this year's camp.
What can volunteers expect to do at camp?
Washing dishes

Cleaning the mess hall (disinfecting tables/setting them/mopping)

Assisting counselors during meals by getting items/food

Cleaning barrack bathrooms

Restocking barrack supplies

Cooking/prepping food (food handler's permit required)

Cleaning up play areas (wiping down maps and picking up items)

Doing laundry

Preparing and planning for arts & crafts

Disinfecting tables/railings around camp

Taking supply inventory

Picking up trash and taking it to dumpsters

Firewatch (Small Group being up and making sure counselors are fed and awake and have everything they need)
Have more questions or have a Kiwanis group interested in volunteering? Please contact: [email protected]
We are always in need of volunteers who would like to join NC Kiwanis and coordinate our primary service project Kiwanis Camp Casey. Because of COVID-19 we are running our meetings virtually via ZOOM. If you would like to learn more ways you can participate or help with Kiwanis Camp Casey email [email protected] or check out our webpage at http://northcentralseattlekiwanis.org/
Planning and Leadership
Are you interested in planning, fundraising, or helping with the website? We are looking for people who would be interested in helping through-out the year. If you are interested, please email: [email protected]
Volunteer Criteria
The person must be able to complete their activities of daily living, either
independently or with a caretaker.

Reason: While reasonable accommodations can be made, volunteers are needed to assist the needs of the camp, and we cannot devote the person-power to care of other volunteers. 

The person must be at least 5 years removed from attending camp as a camper or 3 years removed and involved with the CREW Club

Reason: It is important to the experience and utility of volunteers that they are not using this as an opportunity to return to camp as a camper or counselor.  

The person must be willing and able to take direction from the volunteer
coordinator or other volunteer staff and turn that into actionable duties

Reason: Volunteers are required to do a wide range of activities, and we require that they are able to take direction to do so.